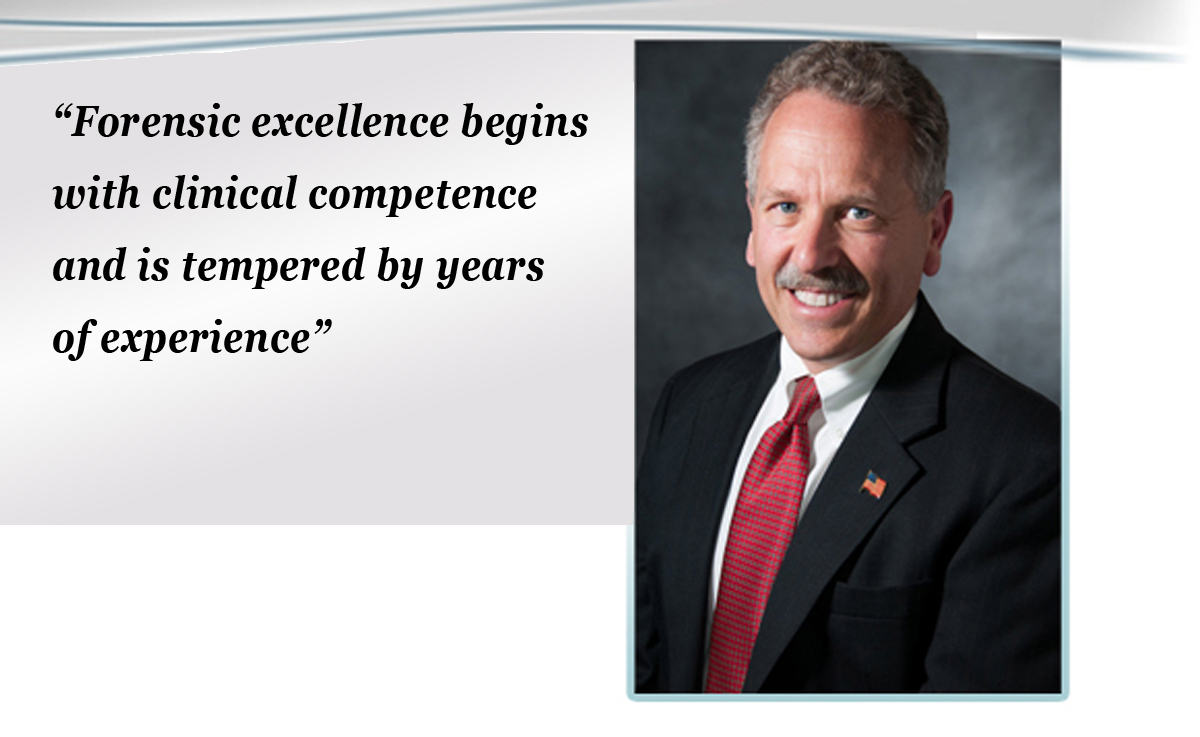 Neil S. Kaye M.D. is an active clinician and expert witness. As a specialist in Forensic Psychiatry, his testimony has had a major impact in high profile cases. Neil S. Kaye, M.D. is Assistant Professor of Psychiatry and Human Behavior at The Thomas Jefferson University College of Medicine and a Special Guest Lecturer at Widener University School of Law. He completed a residency in psychiatry at the Albany Medical Center Hospital and Syracuse.
He completed a fellowship in forensic psychiatry at Syracuse University College of Medicine. He has been an Expert Reviewer for the United States Department of Justice Special Investigation Unit and a Member of the Delaware Governor's Advisory Committee on Mental Health, Alcohol and Substance Abuse. He has been recognized by Delaware Today Magazine as a Top Doc three times in a row and as a Top Psychiatrist in America by the Consumer Research Council.
Dr. Kaye is Board Certified in General Psychiatry, Geriatric Psychiatry, and Forensic Psychiatry. He has held licenses in New York, Delaware, New Jersey, Pennsylvania, Massachusetts and Maryland, North Carolina and Virginia. He is a member of numerous national organizations including the American Academy of Psychiatry and the Law and has a received the Red Apple Award for his service. He is the founder and past Chairman of the Task Force on Psychopharmacology and the Law.
He has been a member of the Advisory Board to the Board of Medical Practice for the State of Delaware, Past-President of the Psychiatric Society of Delaware, and is Chairman of the Ethics Committee of the Psychiatric Society of Delaware. He has been politically active as a member of both the Medico-Legal Affairs Committee and the Public Laws Committee of the Medical Society of Delaware and Chairman of the Mental Health, Alcoholism and Drugs Committee. He is a member of the Advisory Board of Directors of the Brain Injury Association of Delaware.
Dr. Kaye specializes in forensic psychiatry, neuropsychiatry, psychopharmacology, and psychiatric research and has performed over 10,000 psychiatric evaluations. He has experience in criminal, civil, and regulatory law as well as family/domestic issues working with plaintiffs, defendants, and courts. He has delivered over 1,000 lectures and has authored over 60 publications. His special interests include helicopters and cooking. His web address is www.courtpsychiatrist.com. Dr. Kaye is an active clinician in private practice in Wilmington, Delaware and has evaluated over 10,000 patients